CHI Health Center Information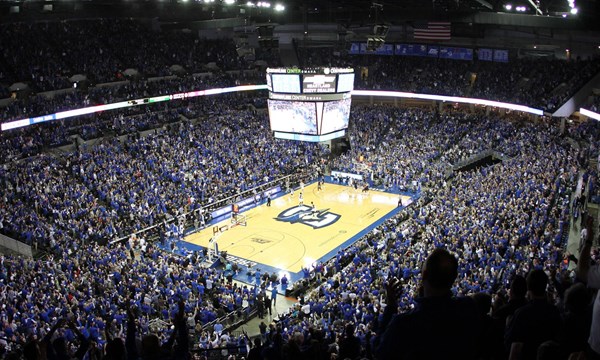 CHI Health Center Omaha is an arena and convention center based in Omaha, Nebraska. It is located in the North Downtown neighborhood of the city and is operated by Metropolitan Entertainment & Convention Authority (MECA). The complex first opened on September 20, 2003 as Qwest Center Omaha.
The arena is primarily home to basketball and hockey games, as well as professional wrestling shows, concerts, as well as a variety of special events, conventions, and corporate meetings. The Creighton University Men's basketball team are the arena's primary tenant, as well as the Omaha Mavericks men's ice hockey team, before they moved to Baxter Arena.
A Brief History
The plan to build the arena began in 2000, when Omaha Voters approved a $216 million bond issue to build a new convention center and arena. The rest of hte funds for the project was provided by private organizations and individuals. When it was completed and opened in 2003, it had an initial seating capacity of 17,000 for concerts, 15,500 for basketball, and 14,700 for hockey. Capacity was later increased through expansion by about 1,500 seats.
Since it's opening, the CHI Health Center Arena and Convention Centers have hosted a variety of big name events. These include the Division I Men's Basketball Tournaments first and second-round games in 2008, 2012, and 2015 and the Midwest Regional games (Sweet Sixteen and Elite Eight) in 2018. The arena was set to host the 2020 tournaments first and second-round games as well, but the tournament was cancelled due to the COVID-19 Pandemic.
The arena also hosted the 2010 NCAA Divsiion I Wrestling Championships and was home to 2008's WWE Judgement Day pay-per-view event as well as several other WWE events. Five championship boxing cards were fought at the arena, all involving Omaha native Terence Crawford who wanted to defend his titles in front of his home crowd. And his fight against Yuriorkis Gamboa in 2014 was the first championship fight in Nebraska since the Joe Frazier – Ron Stander bout in 1971.
More CHI Health Center Omaha information:
Ticket Policy:
Read about ticket information, authenticity guarantees and policies from our recommended ticket marketplace.
Seating Map:
Review the CHI Health Center Omaha seating map and read more about the different seating arrangements.
Parking Information:
Driving to CHI Health Center? Read more about the various parking options here.